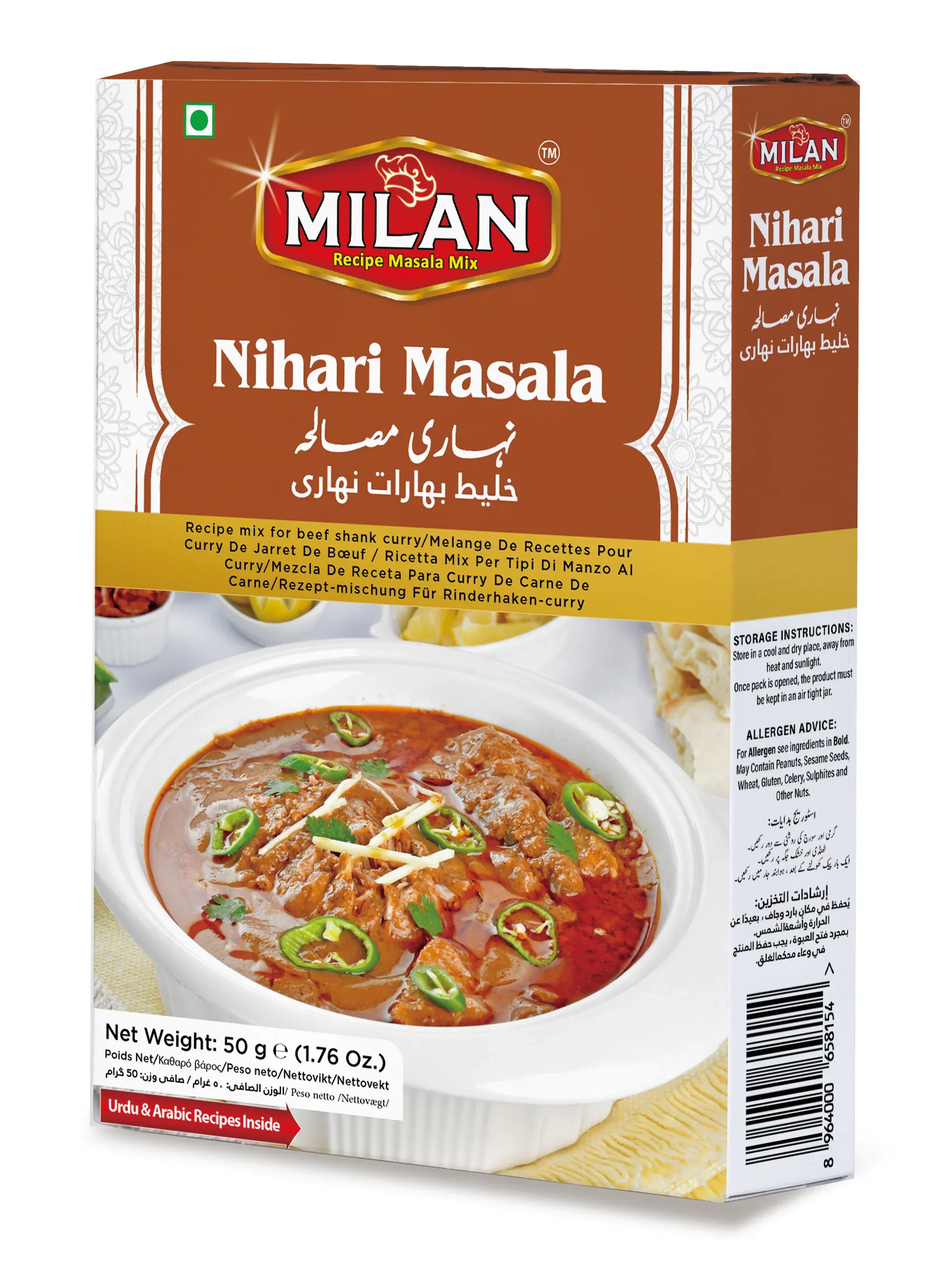 Nihari Masala
Nihari is not only famous cuisine of the subcontinent but also loved thoroughly in Pakistan too. It is one of the best dishes in Karachi and has millions of fans all around the world. But when it comes to making Nihari at home, it is not possible to achieve the taste and thickness at home without Milan foods Nihari Masala. That is why we bring you a perfect blend of Nihari Masala with our team of spice experts.
Order Now:
Ingredients
Red Chili
Fennel
Cloves
Mace
Nutmeg
Cumin
Cinnamon
Laurel
Ginger
Black Pepper
Salt
Cooking ingredients
Beef/mutton 1 kg
Bones 1 ½ kg
Oil/ghee 1 cup
Ginger garlic paste 2 tablespoons
Onion 1
Wheat flour 150 gms
Milan foods Nihari Masala 1 packet
Cooking instructions
Take a large pot, heat oil and add ginger garlic paste, fry it a little and add meat along with bones and Milan foods Nihari Masala.
Fry all things together. Now add 9 to 10 glasses of water and cook for 6 hours on low flame.
Make a solution of flour in three cups of water and mix in curry little by stirring. Now separate bones and cook on high flame for 15 minutes.
In the rest of ghee/oil, fry onion till golden and add in Nihari.
Cook on low flame for half an hour by covering the pot.
Serve tasty Nihari with Tandoori Nan and finally divided green chili, ginger, and lemon juice.