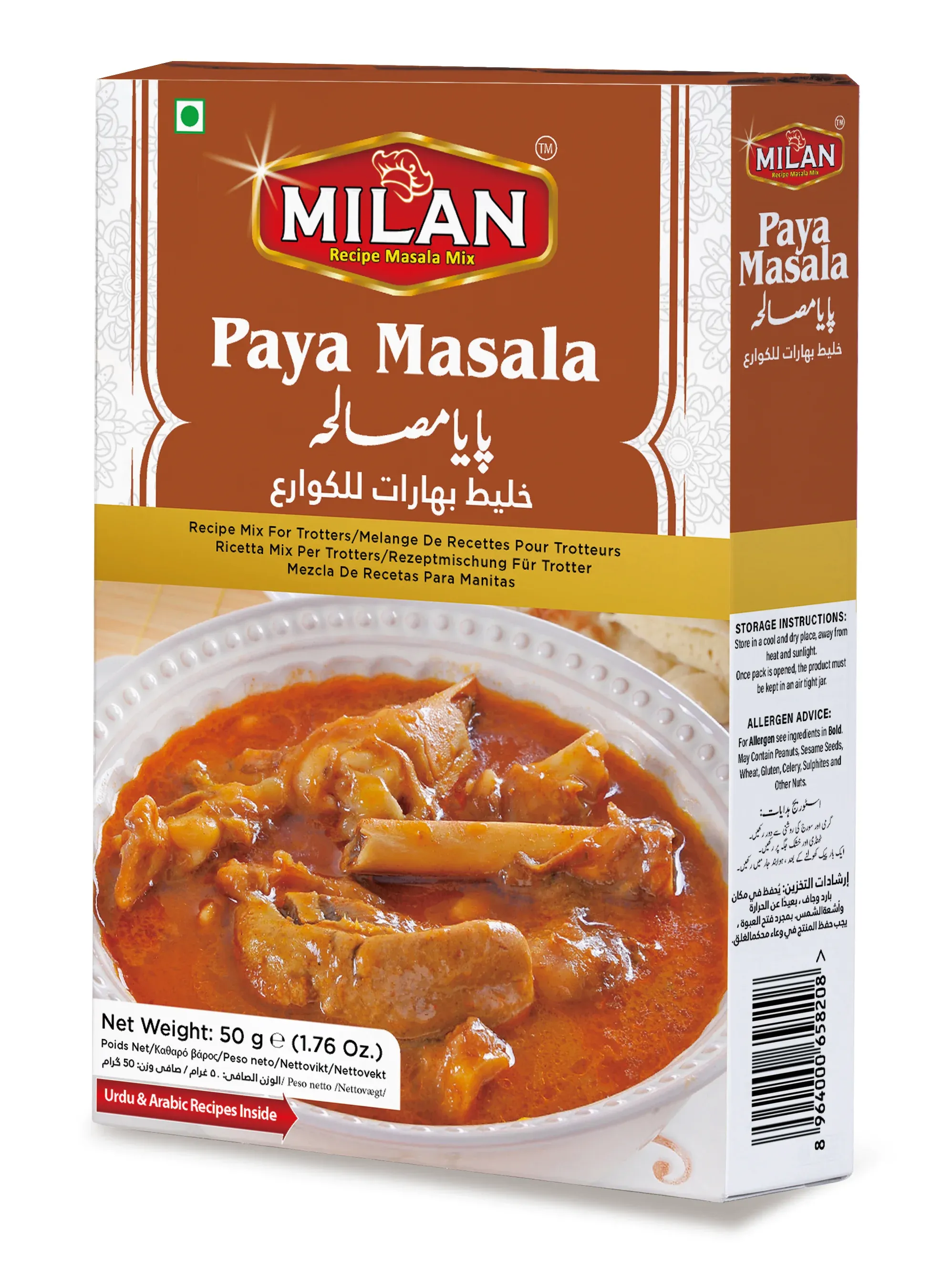 Paya Masala
Paya or Trotters are one of the most favorite dishes of Pakistan and loved all over the country. This delicious delight is not only a warm broth of bones but also comfort food. To bring restaurant-like taste at your home, try our one of the best seller Milan foods Paya Masala and make finger-licking food at affordable prices.
Order Now:
Ingredients
- Salt
- Paprika
- Red Chili
- Coriander
- Turmeric
- Clove
- Carom
- Nigella
- Cumin
- Ginger
- Black Pepper
- Green Cardamom
- Brown Cardamom
- Garlic
- Dehydrated Onion
- Citric Acid
- Maltodextrin
- Hydrolyzed Soy Protein
- Sugar
- Canola Oil
- Silicon Dioxide
Cooking ingredients
Paya/ trotters goat 8 cow 1
Onion finely cut 3 medium
Ginger Paste 1 tbsp
Garlic Paste 1 ½ tbsp
Yogurt 1 cup
Ghee/oil ½ cup
Milan foods Paya Masala 1 packet
Cooking instructions
Wash Paya/ trotters properly, boil for 15 minutes, drain out.
Heat oil/ghee in a big pot
Add cut onion and fry, now add ginger garlic paste, yogurt, and Milan foods Paya Masala and cook the mixture until it separates oil.
Add 8 to 10 glasses of water—Cook for 4 to 6 hours on slow flame.
Tasty Paya is ready to be served with green coriander, chilies, lemon, and cumin powder.