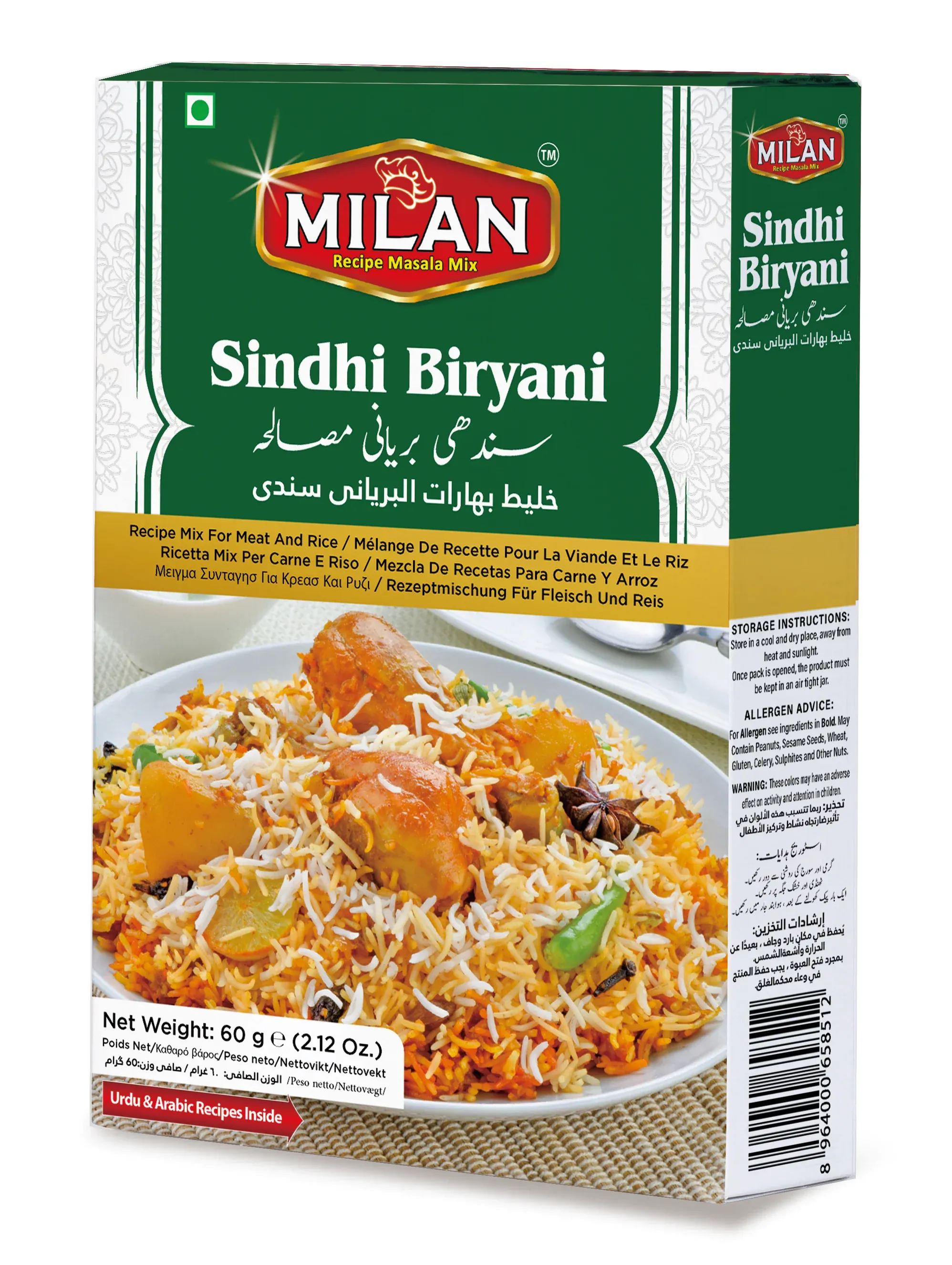 Sindhi Biryani
Make the most hit dish of Sindh, Sindhi Biryani, with our best-seller Milan Foods Sindhi Biryani Masala. We keep in mind the spice levels and savory flavors of Pakistani public and design our products with it so that you can easily make this delicious delight at home in no time, conveniently.
Order Now:
Ingredients
Red Chili
Fennel
Dried Plums
Fenugreek Seed
Turmeric
Small Cardamom
Large Cardamom
Garlic
Clove
Black Cumin
Black Pepper
Salt
Cinnamon
Ginger
Laurel
Cooking ingredients
Mutton Boneless 1 kg
Basmati Rice 1 kg
Tomato 4-5
Potatoes 3-4
Ginger and garlic paste 3 tablespoon
Green chili 5
Coriander and mint leaves ½ bunches each
Oil one cup
Lemon 3 sliced
Milan Foods Sindhi Biryani Masala 1 packet
Cooking instructions
Fry onions in oil until golden brown.
Add meat, ginger and garlic paste, Milan Foods Sindhi Biryani Masala and water (4 – 5 cups in case of beef or mutton and 2 cups in case of chicken) and cook until 2 cups of gravy are left.
Now add potatoes, tomatoes, and yogurt and cook on low flame for five minutes.
Now add fresh coriander and mint leaves, lemon slices, and green chilies.
Cook Rice separately in3 liters of boiling water, add soaked rice and add 3 tablespoons of salt. Boil until rice becomes ¾ done. Drain the rice and keep it aside.
Spread the layers of meat gravy and rice one by one. Do not mix them. Add 1 cup of water and cook it for 3 minutes on high flame. Now leave it on low flame for few minutes.
Turn the flame and serve delicious Milan Sindhi Biryani.
Note: soak Basmati Rice for half an hour or Sela Rice for 3-4 hours.